What Does an Oral and Maxillofacial Surgeon do?
8 Apr 2020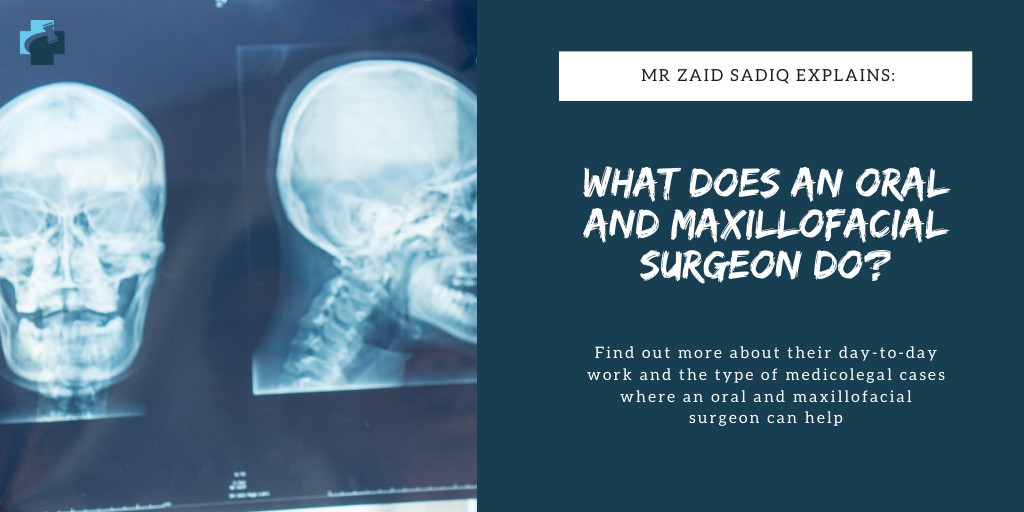 Consultants in oral and maxillofacial surgery (OMFS) specialise in the diagnosis and treatment of conditions of the mouth, jaw, face and neck. Uniquely among the surgical specialties in the UK, OMFS surgeons are qualified in both dentistry and medicine. This is because many of the conditions they treat require expertise in both fields, so OMFS is often viewed as a bridge between the two disciplines. While most specialists are dentists who have undergone additional medical training, it is becoming increasingly common for practitioners to obtain a medical degree first before going on to complete a dental qualification.
The specialty is wide-ranging and includes the surgical and non-surgical treatment of conditions of the hard and soft tissues of the face, head and neck. Conditions that an OMFS surgeon might treat include facial injuries, cancers of the head and neck, salivary gland disease, facial pain, impacted teeth, cysts and tumours of the jaw and conditions affecting the oral mucosa such as mouth ulcers and infections. Due to the nature of their work, OMFS surgeons often work alongside other specialists, such as ear, nose and throat (ENT) surgeons, clinical oncologists, orthodontists, restorative dentists, neurosurgeons, plastic surgeons and radiologists.
There are numerous sub-specialities available within OMFS, with the main ones including:
Surgical treatment of head and neck cancers: the removal of tumours and subsequent reconstruction surgery which may involve microvascular free tissue transfer.
Craniofacial deformities: the correction of facial deformities, both congenital and those acquired through accident, injury or illness. While the primary purpose for this is to improve oro-facial function, improvements in both facial disfigurement and quality of life are also important considerations.
Oral and Maxillofacial: surgery on the teeth, such as removal of impacted wisdom teeth or the use of implants, and other structures including the jaws, temporomandibular joints, salivary glands and facial skin lesions.
Oral medicine: the diagnosis and treatment of conditions of the cervico-facial structures.
Craniofacial trauma: the treatment of soft and hard tissue injuries of the craniofacial structures.
Cosmetic surgery: to enhance facial aesthetics and improve quality of life.
A wide range of surgical procedures may be carried out by an OMFS specialist. Relatively simple operations, such as placement of dental or facial implants prior to implant surgery, removal of impacted teeth and various intra-oral and facial soft tissue procedures, may be carried out on an outpatient basis with the patient receiving local anaesthesia or conscious sedation. Major operations, including those for trauma, facial deformities such as cleft lip or palate in young children, or cancers, more commonly found in older patients, are carried out under general anaesthetic on an inpatient basis.
OMFS surgeons make full use of technology in their work. The advent of three-dimensional imaging techniques, such as CT and MRI scanning, enable surgeons to view very detailed and accurate images of a patient's head and neck anatomy and pathology. These images can be manipulated to enable the clinician to plan surgery and also aid in the manufacture of templates and custom implants which are specific to the patient. One recent advance is the use of navigation equipment which guides the surgeon and allows him or her to see exactly where surgical instruments are in relation to the scanned images. This is particularly useful in head and neck surgery, where many vital structures are located in close proximity to one another. Another technique that has been used by OMFS surgeons for some years now is that of micro-vascular surgery, which allows tissue from one part of the body to be transferred to another. Tissue, including bone, can be relocated from the forearm, thigh, lower leg, pelvis or abdomen to the face or neck. Once this has been done, the small blood vessels of the tissue are connected to recipient vessels in the neck. It was just this type of technique that permitted the world's first face transplant to take place, in an operation that was performed by an OMFS surgeon.
With their detailed knowledge of head, face and neck anatomy and pathology, OMFS specialists are well-placed to assist in medicolegal cases involving both personal injury and medical negligence claims. In personal injury cases, the patient may have sustained dental, cranial or facial injuries as a consequence of a fall, a work-related injury or a road traffic accident, particularly one in which a pedestrian or cyclist has been hit by a car. The most common reasons for medical negligence claims to arise in OMFS include wisdom teeth or dental implant surgery which results in either nerve damage and sensory loss in the tongue and/or lower lip or jaw fracture, complications from surgery on the temporomandibular joint or from procedures to improve jaw position, and complications or a discrepancy between the expected and final outcome from surgery for facial injuries or for cosmetic reasons. While complications are an inherent part of OMFS, good communication between patient and surgeon before any procedure is undertaken may help to manage expectations and prevent or reduce the risk of a subsequent claim being made.
About Mr Zaid Sadiq, Oral and Maxillofacial Surgeon and expert witness
Mr Zaid Sadiq, is a Consultant Oral and Maxillofacial/Head and Neck Surgeon at the Queen Victoria Hospital prior to which he worked for many years at other leading hospitals including University College London Hospital and Great Ormond Street.
Mr Sadiq has a keen interest in cancer, reconstructive surgery and tissue engineering, as well as providing a spectrum of oral and maxillofacial practice. He has authored a significant number of scientific articles and contributed to many surgical publications and books on head and neck surgery.
He can accept both adult and paediatric medico legal instructions in a range of specialist areas for either claimant or defendant. Find out more and download his CV.
Further reading:
De Brauwer F, Bertolus C, Goudot P, Chaine A. Causes for litigation and risk management in facial surgery: A review of 136 cases. J Stomatol oral Maxillofac Surg. 2019 Jun;120(3):211–5.
https://www.rcseng.ac.uk/news-and-events/media-centre/media-background-briefings-and-statistics/oral-and-maxillofacial-surgery/