Outcomes after pelvic injuries
9 Dec 2020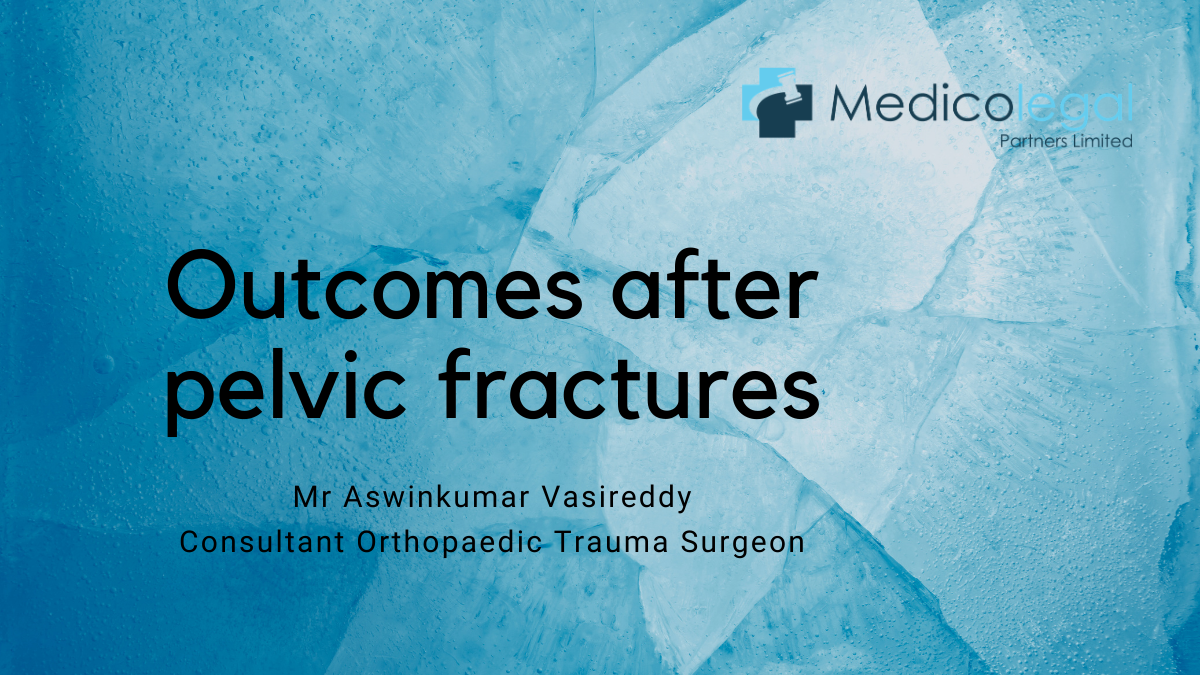 The pelvic ring consists of the sacrum at the centre back and the ischium, pubis and ilium to either side. These last three bones are fused together at the acetabulum, which forms a socket into which the head of the femur sits. The whole pelvic structure, which protects numerous internal organs and nerves, is stabilised by surrounding ligaments. Fractures to the pelvic ring are relatively uncommon and account for only around 3% of all fractures. However, they can be associated with very high rates of both mortality and morbidity. Thus, pelvic fractures present one of the most complex management issues in orthopaedic trauma medicine. Mr Aswinkumar Vasireddy, Consultant Orthopaedic Trauma Surgeon, discusses the challenges and complications they present.
Fractures of the pelvic ring are usually the result of some form of high energy trauma, such as a road traffic accident, whether as a driver, passenger or pedestrian, an injury while playing sport, or a fall from height. Around one-third of patients sustaining this type of injury will die and even in patients who survive there can be long-term consequences. The hip is a major weight-bearing joint and a severe fracture can significantly affect the patient's ability to walk, particularly if the bone fragments are not well-aligned or are severely damaged, and thus good reconstruction is not possible. The ultimate goal of treatment must be to stabilise the fracture, restore anatomy and achieve bone healing so that functional rehabilitation can take place, thereby reducing the risk of chronic pain and the complications associated with prolonged immobilisation.
Patients involved in high energy trauma often sustain multiple injuries to other regions of the body, such as the head, thorax and abdomen. This complex combination of injuries leads to a significantly increased mortality rate.
The commonest cause of death in patients with pelvic ring fractures is massive uncontrolled bleeding. Most of the haemorrhage associated with this type of fracture arises from damage to the bone itself as well as surrounding blood vessels. However, the extent of the bleeding is not always related to the type or severity of the fracture. Control of bleeding is therefore vital and can be achieved using various methods. These include pelvic binding (PB), pelvic packing (PP), angiography-embolization (AE) and resuscitative endovascular balloon occlusion of the aorta (REBOA). However, all of these procedures are associated with complications, including skin necrosis and pressure ulcerations (PB/PP), muscle necrosis, nerve injury or bladder/urethral infarction (AE) and acute kidney injury or vascular complications (REBOA). Whichever method is used, there is an inverse correlation between the time taken to control the bleeding and the survival rate.
As well as bleeding, many other conditions are associated with pelvic ring fracture. Up to 25% of patients will sustain damage to the lower urinary tract and urethra. However, diagnosis is often difficult at the initial patient presentation. Injuries can be acute, such as complete transection of the urethra, or may be more chronic in nature, like impotence or urinary incontinence. There is also a high incidence of ano-rectal lesions, which can lead to bowel incontinence. Other complications include sexual dysfunction, perineal and pelvic abscesses and vascular complications such as blood clots in the leg and/or lung. Furthermore, patients with pre-existing diabetes mellitus have higher rates of both mortality and complications following trauma, and there are thought to be multiple mechanisms for this effect.
While the majority of pelvic ring fractures occur in relatively young patients, this type of injury is also seen in the elderly, usually as the result of a standing height fall. Even minor trauma can cause major pelvic fractures or bleeding, due to the fragility of the bones and the decrease in function of protective regulatory systems in older patients. This group of patients is more likely to require treatment to control bleeding than younger patients, even in fractures which appear to be low-risk and mechanically stable. Furthermore, older patients are more likely to suffer from deep vein thrombosis resulting from the fracture, particularly in acetabular fractures. Pelvic ring fractures in children also present a specific set of problems, as the child's bones are continuing to develop. Delayed complications may arise due to disruption in the growth of the hip joint, which can lead to leg length discrepancy and hip dysplasia. Neurologic dysfunction is also a possibility. Therefore, children with pelvic ring fractures require review long after the initial recovery period.
Despite improvements in diagnosis and treatment, mortality and complication rates following pelvic fracture remain can high. However, the development of trauma networks in the UK and a multidisciplinary approach has helped reduce the mortality and morbidity rate from pelvic fractures.
About Mr Vasireddy
Mr Vasireddy is a full-time fellowship-trained Orthopaedic Trauma Surgeon at King's College Hospital. He specialises in the management of complex open/closed pelvic, acetabular, upper limb and lower limb fractures and amputations. He is also one of a small group of surgeons, and the only contemporary Orthopaedic Surgeon, in the UK who works as a HEMS (Air Ambulance) Pre-hospital Care Doctor. Read his full biography and download his CV here.
Further reading:
Chen, H.-T., Wang, Y.-C., Hsieh, C.-C., Su, L.-T., Wu, S.-C., Lo, Y.-S., … Tsai, C.-H. (2019). Trends and predictors of mortality in unstable pelvic ring fracture: a 10-year experience with a multidisciplinary institutional protocol. World Journal of Emergency Surgery : WJES, 14, 61. https://doi.org/10.1186/s13017-019-0282-x
Coccolini, F., Stahel, P. F., Montori, G., Biffl, W., Horer, T. M., Catena, F., … Ansaloni, L. (2017). Pelvic trauma: WSES classification and guidelines. World Journal of Emergency Surgery : WJES, 12, 5. https://doi.org/10.1186/s13017-017-0117-6