September is Pain Awareness Month
19 Sep 2017
In 2001, The American Chronic Pain Association (ACPA) began a campaign to raise awareness for chronic pain – since that year, September has been globally declared 'Pain Awareness Month', a time dedicated to those suffering with chronic pain to raise public awareness of issues in pain and pain management.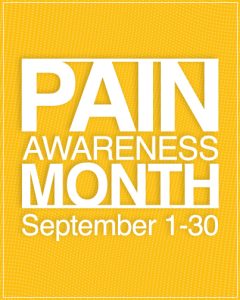 Chronic pain (also known as the 'invisible illness'), causes excruciating, debilitating pain for months and in some cases, years – affecting nearly 28 million people in Britian – more than those who have diabetes, heart disease and cancer combined. With so many people suffering from this condition, 'Pain Awareness Month' aims to give people a better understanding of the illness in order to empathise with those who battle with chronic pain.
Pain Awareness Month is not just to improve clinicians skills in pain management, but as a powerful means to send a message among patients and the general public that millions of people continue to suffer from from chronic pain, a condition that deserves proper management. It is an opportunity for those who suffer from an "invisible" illness to finally have their voices heard, and incite much-needed change.
There are many things that you can do to help promote Pain Awareness Month:
Spread the word to friends and family
Utilise social media by sharing, liking and posting about the campaign
Call your local media and ask them if they are doing a story on Pain Awareness Month
Donate to the ACPA to help fund their year-round mission to raise awareness and support for those with chronic pain
To discover more about Pain Awareness Month and read more about it's history, visit the American Chronic Pain Association's page.
To receive monthly updates from Medicolegal Associates, sign up to our Newsletter.