Kings Chambers Conference 2017
25 Sep 2017
Chronic Pain Cases: How to Spot Them. How to Treat Them.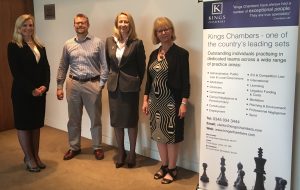 Medicolegal Partners joined Kings Chambers in presenting the Leeds Chronic Pain Conference with Fiona Ashworth, Anna Diamond and guest speakers Lesley Haines and our expert, Dr Christopher Jenner on 8th September.
This conference offered a unique opportunity for clinical negligence and personal injury solicitors and associates to meet and hear leading experts opinions on Chronic Pain Cases.
To receive monthly updates from Medicolegal Associates, sign up to our Newsletter.